Nodes¶
From the Interface tutorial, you learned that interfaces are the core pieces of Nipype that run the code of your desire. But to streamline your analysis and to execute multiple interfaces in a sensible order, you have to put them in something that we call a Node.
In Nipype, a node is an object that executes a certain function. This function can be anything from a Nipype interface to a user-specified function or an external script. Each node consists of a name, an interface category and at least one input field, and at least one output field.
Following is a simple node from the utility interface, with the name name_of_node, the input field IN and the output field OUT: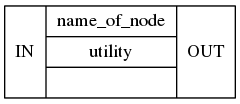 Once you connect multiple nodes to each other, you create a directed graph. In Nipype we call such graphs either workflows or pipelines. Directed connections can only be established from an output field (below node1_out) of a node to an input field (below node2_in) of another node.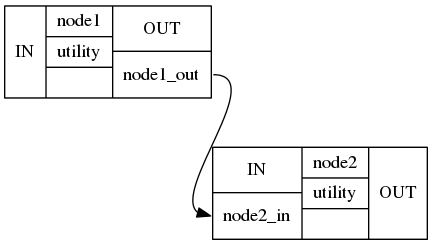 This is all there is to Nipype. Connecting specific nodes with certain functions to other specific nodes with other functions. So let us now take a closer look at the different kind of nodes that exist and see when they should be used.