MapNode¶
If you want to iterate over a list of inputs, but need to feed all iterated outputs afterward as one input (an array) to the next node, you need to use a MapNode. A MapNode is quite similar to a normal Node, but it can take a list of inputs and operate over each input separately, ultimately returning a list of outputs.
Imagine that you have a list of items (let's say files) and you want to execute the same node on them (for example some smoothing or masking). Some nodes accept multiple files and do exactly the same thing on them, but some don't (they expect only one file). MapNode can solve this problem. Imagine you have the following workflow: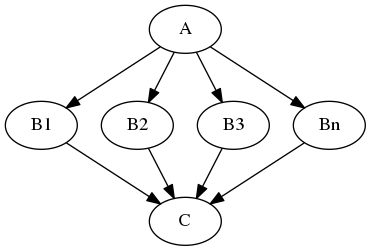 Node A outputs a list of files, but node B accepts only one file. Additionally, C expects a list of files. What you would like is to run B for every file in the output of A and collect the results as a list and feed it to C.