Important
This guide hasn't been updated since January 2017 and is based on an older version of Nipype. The code in this guide is not tested against newer Nipype versions and might not work anymore. For a newer, more up to date and better introduction to Nipype, please check out the the Nipype Tutorial.
How To Build A Pipeline For A Second Level fMRI Analysis
In this section you will learn how to create a workflow that does a second level analysis on fMRI data. There are again multiple ways how you can do this, but the most simple on is to check if your contrasts from the first level analysis are still significant on the group-level a.k.a. the 2nd level.
Note
You can only do a second level analysis if you already have done a first level analysis, obviously! But more importantly, those first level contrasts have to be in a common reference space. Otherwise there is now way of actually comparing them with each other and getting a valid results from them. Luckily, if you've done the previous step, you've already normalized your data (either with ANTs or SPM) to a template.
Write your pipeline script
If you've already done the previous sections, you know how this works. We first import necessary modules, define experiment specific parameters, create nodes, create a workflow and connect the nodes to it, we create an I/O stream and connect it to the workflow and finally run this workflow.
Visualize your pipeline
The colored graph of the 2nd-level workflow looks as follows: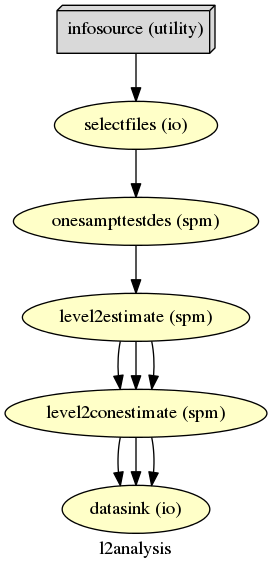 Resulting Folder Structure
The resulting folder structure looks as follows:
output_fMRI_example_2nd
|-- contrasts
    |-- con_0001
    |   |-- con_0001.nii
    |   |-- SPM.mat
    |   |-- spmT_0001.nii
    |-- con_0002
    |-- con_0003
    |-- con_0004
    |-- ess_0005
    |   |-- ess_0005.nii
    |   |-- SPM.mat
    |   |-- spmF_0005.nii
    |-- ess_0006